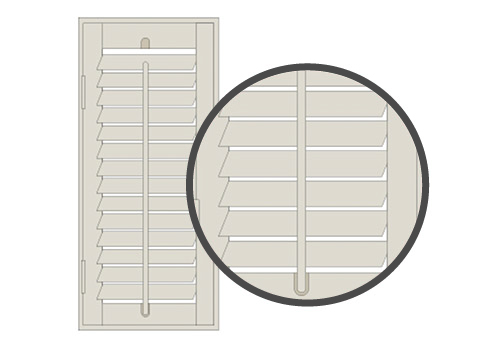 Front Tilt Rod
The tilt rod is the vertical piece of wood which links the shutter slats together and allows the slats to open and close in unison. A front tilt rod sits in the centre of the panel, but can be ordered offset to the side.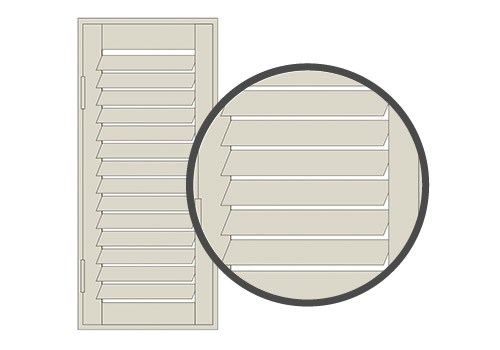 Hidden Tilt Rod
This rod is completely hidden inside the stile of the shutter panel, offering a sleek and minimalist look. To open and close the slats, simply adjust one of the slats by hand and they will open in unison.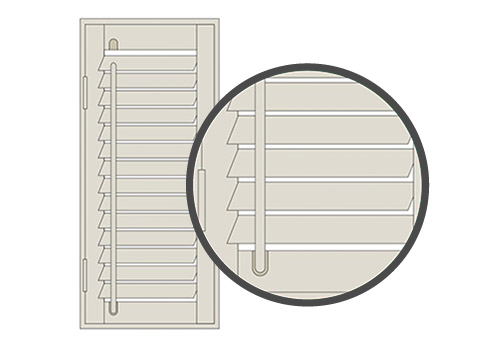 Offset Tilt Rod
For something a little different, why not opt for our Offset rod? Sitting approximately 25mm from the end of the louvers towards the hinged side, this option adds even more character to our slatted shutters.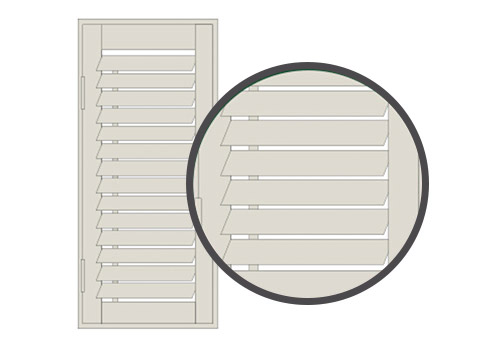 Clearview Tilt Rod
A subtle aluminium tilt rod hidden to the window side of the shutter panel, the Clearview rod is both discreet and practical. The slats are opened and closed by hand, ensuring any of the connected slats will move in unison.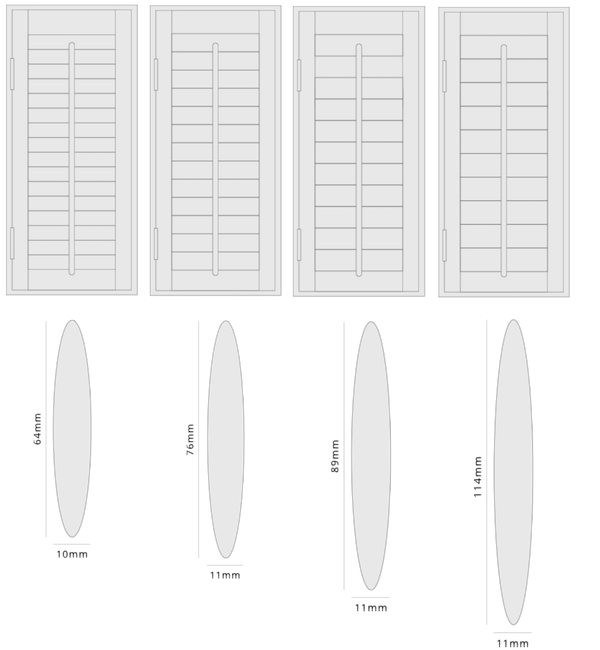 Slat Options
With four different slat sizes to choose from, you're sure to find the perfect design and best light levels for your room. Our slats come in 64mm, 76mm, 89mm, and 114mm.

Hinge options
Although small in size, choosing the right hinges for your shutters can make a big difference to the finished article.
We generally find it best to match hinges to the colour of your painted shutters, or advise choosing a complimentary metallic tone for our natural wood stained shutters. We also provide matching screwheads to ensure everything looks tidy and uniform.
If you're planning on opening out your shutters all the time, it is worth giving extra thought to your hinge choice. After all, this means they will be on show often, so you should ask yourself if you want to go with a subtle look or a hinge that stands out.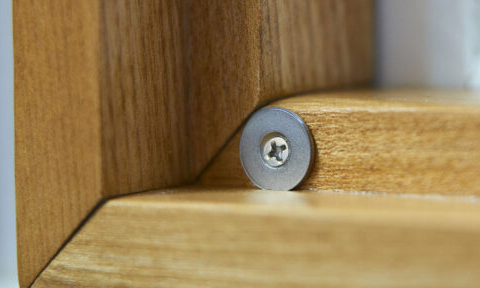 Magnets
Little magnetic plates keep your shutters in the desired position, meaning that even the strongest breeze won't fire them open or closed.
We use magnets on the shutter panels and corresponding magnet plates on the frame. This keeps the shutters securely in place, even when accidentally knocked.